Can You Buy Anxiety Medication Online?
Anxiety and depression are the most common mental disorders in the United States. The Anxiety and Depression Association of America (ADAA) estimates that about 18.1% of the population is treated for anxiety or depression every year. That's about 40 million adults that are affected by this disability that are age 18 and older.
Luckily, if you suffer from anxiety or depression, you don't have to face it alone. Anxiety disorders are highly treatable and thanks to innovative strides in tele-healthcare websites like Plushcare, you can buy anxiety medication online safely, discreetly, and conveniently. Let's take a look at how an online doctor can help you find the right depression or anxiety treatment that's right for you.
What is Anxiety?
Since the beginning of mankind, the threat of danger could set off a trigger of alarm that tells your body to evade action or fight for survival. When you face potential harmful or worrying situations, it is normal to react with feelings of anxiety or depression. Nowadays, anxiety can center itself around work, money, health problems, or problems at home.
The American Psychological Association (APA) describes anxiety as emotions that are "characterized by feelings of tension, worried thoughts, and physical changes like increased blood pressure." Getting to know the difference between normal anxiety and having an anxiety disorder that requires medical assistance can help you get back on track.
Symptoms of Anxiety
Although a diagnosis of anxiety disorder can cover a broad spectrum of symptoms, people with symptoms of generalized anxiety disorder will commonly have symptoms such as:
Irritability
Difficulty concentrating
Overwhelming feelings of worry
Feeling like you are "on edge"
While it's normal to experience these feelings from time to time, a person with generalized anxiety disorder may have difficulty overcoming these feelings and it can disrupt their daily living.
How is Anxiety Treated?
Anxiety disorders are often treated with a combination of therapy, exercise, a healthy diet, and anti-anxiety medications. These medications can include selective serotonin reuptake inhibitors (SSRIs) antidepressants for long-term use or benzodiazepines, which are typically used for short-term, more temporary relief.
Anxiety medications can help relieve your symptoms, but they aren't right for everybody and each medication has different side effects and benefits of its use. It's important to speak with your doctor about your current medical history so you can decide with your doctor which anxiety medication is right for you.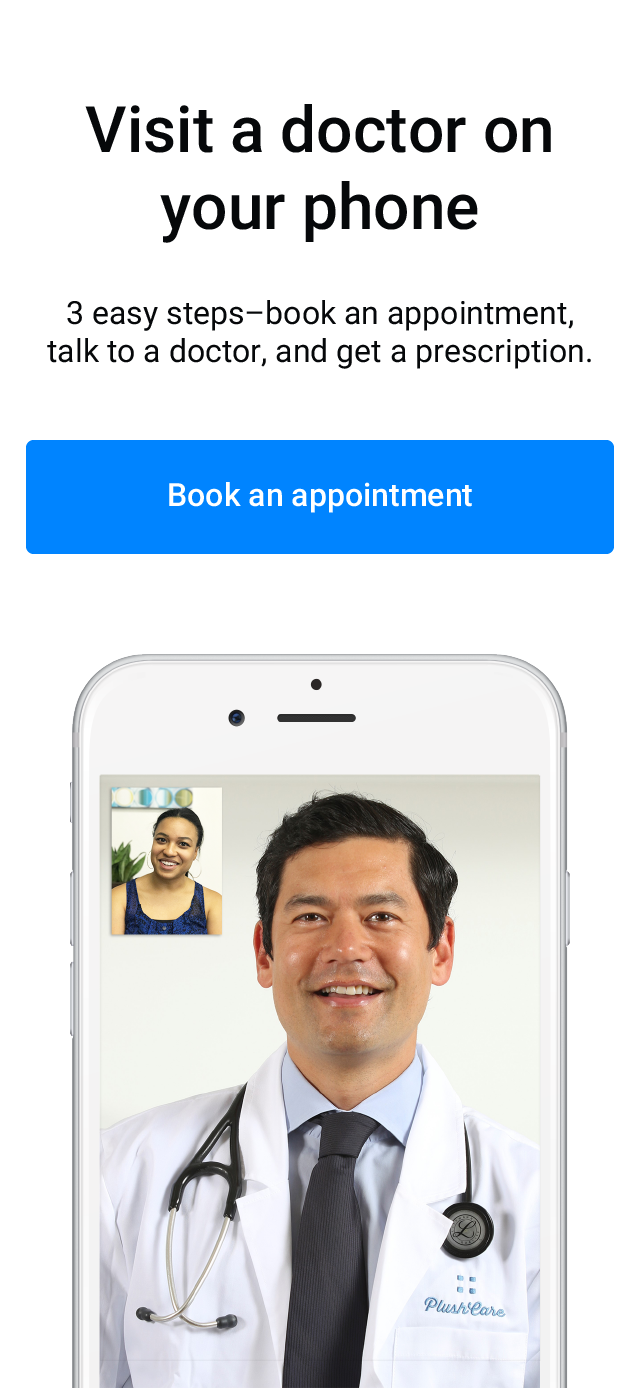 What Kind of Anxiety Prescriptions Can Online Doctors Write?
You can get a prescription for many different anxiety medications online. Some of these include:
However, there are certain restrictions on what kinds of medications are available to be prescribed online. Medications that are considered to be controlled substances and have the potential for abuse cannot be prescribed online. These include:
Medical marijuana
Narcotics such as oxycodone, Vicodin, and morphine
Sleep aids and sedatives such as Ativan, Lunesta, Ambien, and Xanax
Antipsychotic drugs like Risperdal, Seroquel, and Zyprexa
Stimulants such as Ritalin and Adderall
Do I Need a Psychiatrist to Buy Anxiety Medication Online?
No. Anxiety medications are commonly prescribed by both primary care doctors and psychiatrists. A qualified primary care physician will be able to examine your condition and determine whether you need to switch your current anxiety medications, a medication dosage change, or a refill of your current prescription.
Side Effects of Anxiety Medication
Anxiety medications are generally safe to use with mild to moderate side effects and are used to treat anxiety orders such as panic disorder, post-traumatic stress disorder (PTSD), obsessive-compulsive disorder (OCD), and social anxiety disorder. Be sure to talk with your doctor about the risks and benefits of using anxiety medication if you experience any of the following:
Increased sweating
Weight gain
Nausea
Dry mouth
Fatigue
Agitation
Nervousness
Drowsiness
Insomnia
Considerations and Precautions of Anxiety Medication
Medications for anxiety take between 4 to 6 weeks to feel the full effect. The medication that is most commonly prescribed for generalized anxiety disorders are SSRIs like Celexa, Zoloft, Paxil, and Prozac.
On occasion SSRI withdrawal can occur if you discontinue use too quickly. SSRI withdrawal symptoms can include flu-like symptoms, insomnia, anxiety, depression, and fatigue. Talk with your doctor first before discontinuing the use of an SSRI medication. You doctor may want to gradually decrease your dose over time.
Can You Buy Anxiety Medication Online?
If you're concerned with discretion and privacy, telemedicine sites such as PlushCare have made the process of getting anxiety medication prescriptions and refills easy and convenient. There's no office visit required.
Sites like PlushCare offer appointments with a trusted doctor via telephone or video chat where you can get a proper evaluation, diagnosis and prescription for anxiety medications.
If your health insurance is covered under your employer, you can be sure that your information is kept confidential if you are prescribed anxiety medication. It's against the law for any insurance companies or healthcare providers to tell your employer that you are receiving services for mental health.
To speak with an experienced doctor at PlushCare, just click here or call (888) 660-5348 to make an online appointment and discuss with a doctor the risks and benefits of medication for anxiety and if it is right for you. It's just that easy to buy anxiety medication online!
PlushCare takes content accuracy seriously so we can be your trusted source of medical information. Most articles are reviewed by M.D.s, Ph.D.s, NPs, or NDs. Click here to meet the healthcare professionals behind the blog.
Read More About Getting Prescriptions Online: