Can You Buy Doxycycline Online?
Can You Buy Doxycycline Online?
Doxycycline is a common antibiotic used to treat a variety of bacterial infections. It can also be effective in the prevention of malaria. This article will break down the uses and risks associated with doxycycline to help you understand if it may be right for you.
With PlushCare's online healthcare platform, you may be able to get a prescription for the antibiotic and buy doxycycline online.
What is Doxycycline?
Doxycycline is considered a tetracycline antibiotic, which functions by halting the growth and spread of bacteria throughout the body. Like any antibiotic, this medication can only be used for treatment of bacterial infections. It is ineffective against viral infections because it will not attack a virus.
Some common conditions that doxycycline is known to treat are:
As mentioned above, doxycycline is also prescribed to prevent malaria. In this case, it should be taken a few days before travel to malarious areas, daily during potential exposure time, and then for four weeks after leaving the malarious area.
Like most antibiotics, it is recommended to take doxycycline with food, at around the same time each day, until the regimen is complete. Your doctor can give you more details on how and when you should take the medication.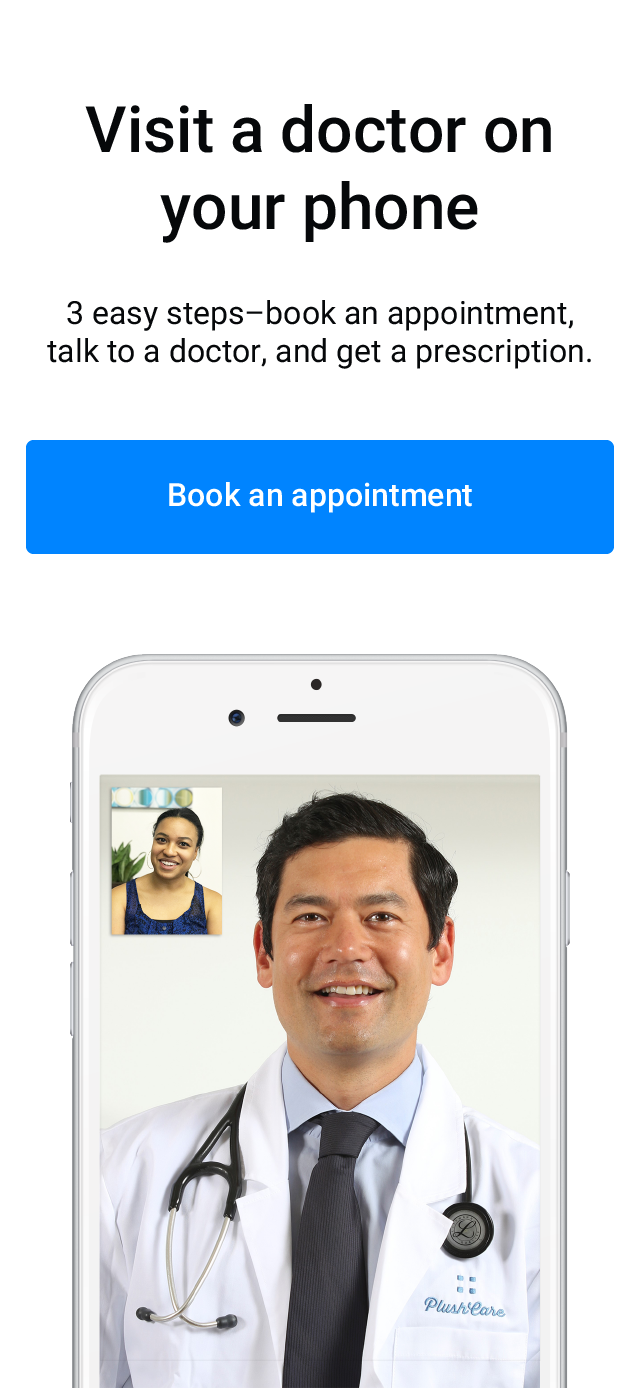 Who Should Take Doxycycline?
Doxycycline is safe for most people who need an antibiotic to treat a bacterial infection. It is advised to avoid doxycycline if you are pregnant, as it can harm an unborn baby. Although allergies to antibiotics are rare, this is also a consideration before taking this medication. Talk to a doctor to determine whether or not you are a good candidate for doxycycline.
What are the Risks of Taking Doxycycline?
The side effects associated with taking doxycycline are typically very mild. Because antibiotics attack bacteria, they can also kill good, healthy bacteria that live in your body. Most side effects are associated with gastrointestinal discomfort, since the balance of bacteria in your gut may be altered while taking doxycycline.
These common symptoms include:
If these symptoms or other symptoms persist, you should contact a doctor.
Can You Buy Doxycycline Online?
Thankfully, antibiotics like doxycycline can be purchased online with a prescription from a doctor. If you suspect that you have a bacterial infection, schedule an appointment with a PlushCare physician today to discuss your options. Our doctors can prescribe medication like doxycycline, and can have the medication sent to you or your local pharmacy.
It is important to note that there are many sites claiming to prescribe quality medication. Make sure you choose an online healthcare platform that is reputable, safe, and secure – especially before you give out any personal or medical information.
PlushCare's doctors have an average of 15 years of experience and can help you get the relief you need. Schedule your online appointment today.
PlushCare takes content accuracy seriously so we can be your trusted source of medical information. Most articles are reviewed by M.D.s, Ph.D.s, NPs, or NDs. Click here to meet the healthcare professionals behind the blog.
Read More About Getting Precriptions Online
Article Sources