If you are having issues with erectile dysfunction, you may be considering a prescription for medication such as Sildenafil. The process of getting a prescription when you need it can be time consuming and inconvenient. Online doctors and telehealthcare websites like PlushCare, offer an easy process for obtaining a prescription online.
What is Sildenafil?
Sildenafil is an oral therapy ED drug that is also known under the brand names Viagra or Revatio. This "little blue pill" comes in doses of 20 mg, 25 mg, 50 mg, and 100 mg.
Sildenafil is used to treat erectile dysfunction (ED). It can also be used to treat premature ejaculation and pulmonary arterial hypertension (PAH). Sildenafil is included in a family of drugs called PDE-5 inhibitors.
How Does Sildenafil Work?
Sildenafil works by inhibiting a chemical in your body called phosphodiesterase type 5. This chemical is typically released after ejaculation to reduce blood flow to the penis. For men with ED this chemical may be over produced and result in the inability to get an erection.
Sildenafil lasts up to eight hours. It can take effect as quickly as 30 minutes. However, the average time to take effect is one hour.
This does not mean you will get an erection within an hour of taking Sildenafil and have it for 8 hours. It does mean that during an 8 hour period an erection will be more easily obtained with sexual stimulation. To learn more about how long ED meds last click here.
Does Sildenafil Have Any Side Effects?
Like all medications, Sildenafil may cause side effects. Most side effects are mild. Talk to your doctor if you experience any of the following symptoms while taking this medication:
Muscle aches
Headache
Sensitivity to light
Numbness, tingling, or burning in your legs, feet, arms, or hands
Difficulty falling asleep
Heartburn
Diarrhea
Nosebleeds
Feeling flush or overheated
Some side effects that are less common can be serious, such as:
blurred vision
sudden decrease in hearing or ringing in your ears
lightheadedness or fainting
chest pain
shortness of breath
sudden loss of vision.
Contact your doctor as soon as possible if any of these symptoms occur.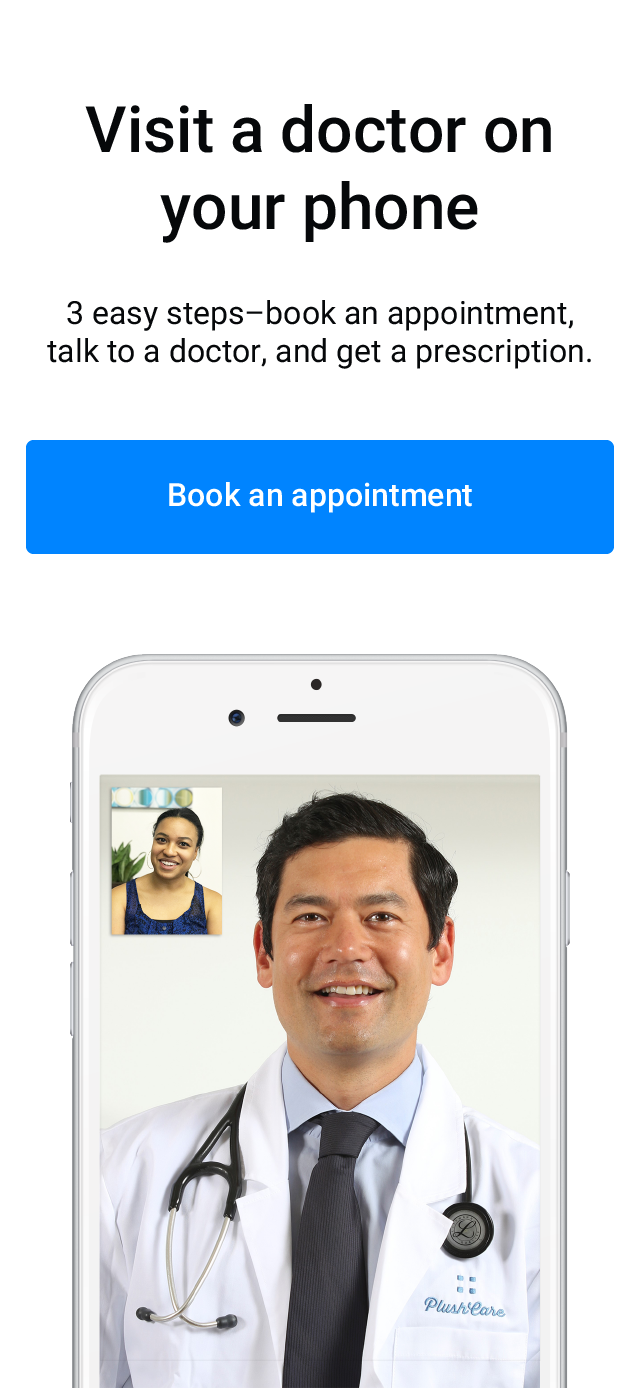 Can You Take Sildenafil With Other Medications?
If you are taking sildenafil to treat erectile dysfunction, it is important not to take any other similar ED medications unless you consult with your doctor first. If you are taking sildenafil for pulmonary arterial hypertension, do not stop taking your pill and consult with your doctor if you start any new medications. If you are taking alpha blockers, nitrates, or antihypertensives, your doctor may consider starting you a 25 mg dose of sildenafil.
How Do You Get Sildenafil Online?
Fortunately, if you want to get a prescription for sildenafil you can now skip the doctor's office and make an appointment with Plushcare.com. The process is very similar to seeing a traditional doctor and it starts with making an appointment which includes registering and starting an account.
After you make an appointment, your doctor will contact you for a one-on-one video chat or phone call. During your chat, you and your doctor will discuss your current health issues and your past medical history. Most consultations will last about 10 to 15 minutes.
At the end of your chat, your online doctor will diagnose your condition and offer you a range of options for treatment that may include a prescription for any necessary medication such as sildenafil. Your online doctor will electronically send your prescription to the pharmacy of your choice and you can pick it up at your convenience. It's the safest, fastest, and most discreet way to get your medication.
Read More About ED Medication