How To Get An ED Prescription Online
How to Get an ED Prescription Online
If you're suffering from erectile dysfunction (ED), you probably don't want to sit in a waiting room with a bunch of sick people, then discuss your symptoms with a medical assistant before you even get to see your doctor. Luckily, there's a better way to get a prescription for your ED. You can skip the doctor's office and get an ED prescription from an online doctor from the comfort of your own home.
ED Symptoms
While occasional trouble getting an erection is not uncommon, erectile dysfunction includes symptoms of ED including consistent difficulty with:
Reduced sexual desire
Getting an erection
Keeping an erection
Causes of ED
Since sexual arousal involves emotions, hormones, blood vessels, nerves, muscles, and the brain, there is a wide variety of factors that can cause ED, including:
Alcoholism or other substance abuse
Clogged blood vessels
Depression
Diabetes
Heart disease
High blood pressure
High cholesterol
Metabolic syndrome
Multiple sclerosis
Obesity
Parkinson's disease
Peyronie's disease (development of scar tissue inside the penis)
Prescription medications
Relationship problems
Sleep disorders
Stress
Surgeries or injuries affecting the spinal cord or pelvic area
Tobacco use
Treatment for prostate problems
How To Get An ED Online Prescription
With telemedicine sites like PlushCare, there's no need to go see your regular doctor to get a prescription for your erectile dysfunction. Simply make an appointment for a video chat with one of our experienced doctors and discuss your symptoms. After a thorough discussion of your medical history and current symptoms, your doctor will decide if an ED prescription is right for you. If you do, the doctor will electronically send your prescription to your preferred pharmacy.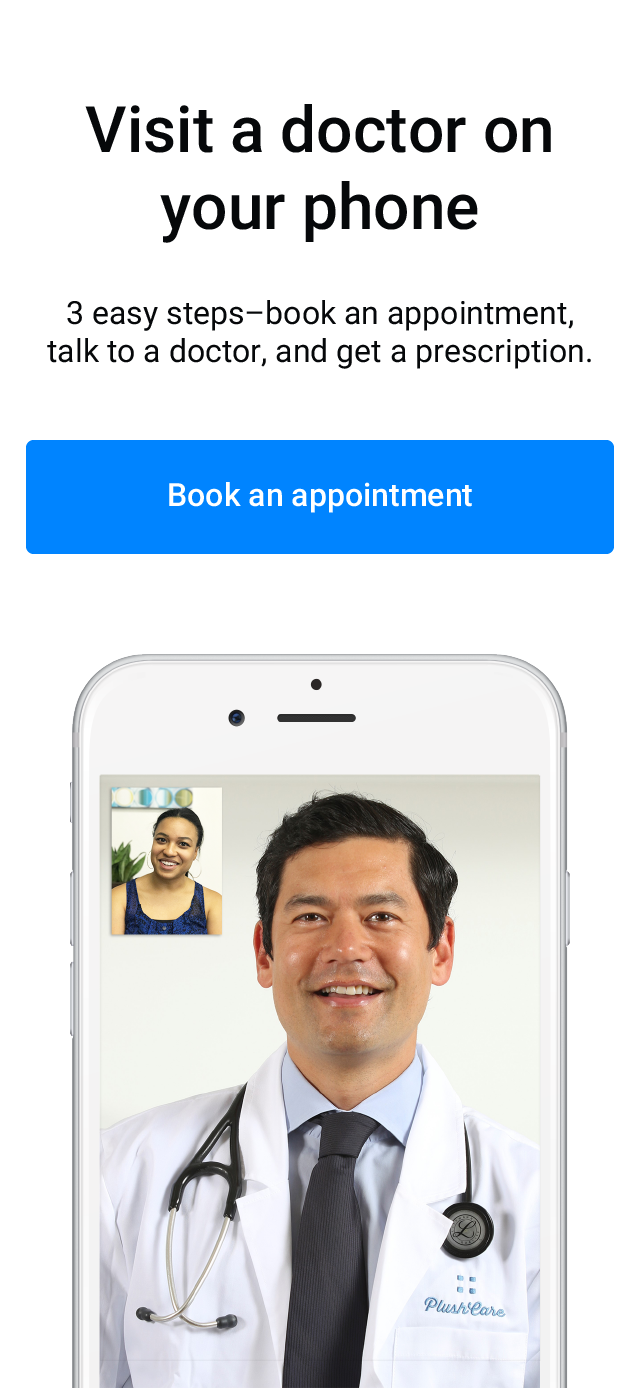 Why You Should Trust PlushCare Over Other Sites
If you Google "buy erectile dysfunction drugs online," you'll get millions of results, most of which are scams. If you aren't getting a prescription from a doctor for a real ED drug that you pick up at a reputable pharmacy, there's no guarantee what you're getting.
One FDA (Food and Drug Administration) investigation showed that medications and supplements bought online without prescriptions aren't always what they seem. They may contain other ingredients (like antibiotics) or the dosage may be wrong. For example, Viagra samples bought online without a prescription contained only 10% of the advertised strength.
With PlushCare, you're getting prescribed by a doctor and picking up real-deal ED medications from your trusted pharmacy. You don't have to worry about what you're taking like you would if you purchased ED medications or supplements online without a prescription.
You should never take any ED medication without a prescription from a doctor. Sites offering these products are scams and can put your health and your partners health at risk.
Make An Appointment Today To Get An ED Prescription Online
Make an appointment today to discuss your symptoms with a real doctor and get a prescription for the ED medication that will best treat your erectile dysfunction. It's the safest, easiest and most discreet way to get reliable ED medications.
Appointments are available around the clock, and if you have insurance, cost the same as a copay to your regular doctor. Without insurance, appointments are only $99. Book now to see if ED medication is right for you.
PlushCare takes content accuracy seriously so that we can be your trusted source of medical information. Most articles are reviewed by M.D.s, Ph.D.s, NPs, or NDs. Click here to meet the healthcare professionals behind the blog.
Read More About ED Prescriptions Online