Can an Online Doctor Write a Prescription?
Learn How Online Doctors Can Write Prescriptions
Prescription drugs remain an amazing innovation, saving countless lives and promoting the health and wellbeing of millions of people all over the world.
According to research by Pew Charitable Trusts, spending on prescription drugs in 2018 is estimated to be $535 billion before discounts, hitting a 10 year high.
And according to reports from the IMS Institute for Healthcare Informatics, by 2020 the United States is estimated to spend upwards of $610 billion to $640 billion on prescription drugs.
There's no denying the importance of prescription medication, but the process of obtaining a prescription can be extremely time consuming and inconvenient.
Telehealth platforms such as PlushCare offer a more streamlined process to receive diagnosis and treatments for common illnesses and injuries, and they are becoming a common source for those in need of prescription medication.
PlushCare and Prescriptions
PlushCare's online doctors can write 90-day prescriptions for any medicine approved by the Drug Enforcement Administration as well as prescribe refills for any medication you have been previously prescribed that is not classified as a controlled subtance.
Our doctors electronically send prescriptions straight to the pharmacy of your choice, allowing for greater comfort and convenience.
PlushCare is dedicated to providing safe, convenient health services that are affordable for your personal budget. We provide urgent care assistance, meaning we treat any common illnesses or injuries that are not life threatening. This includes diagnosis and personalized treatment plans along with any prescription medication that may be necessary.
We accept health insurance from most providers and offer affordable, flat-fee pricing for those who do not currently have health insurance. If you would like to get a prescription or want more information, book an appointment with PlushCare today.
Now let's take a closer look at online doctors, how online doctor visits work, and the precautions online doctors take to ensure your safety.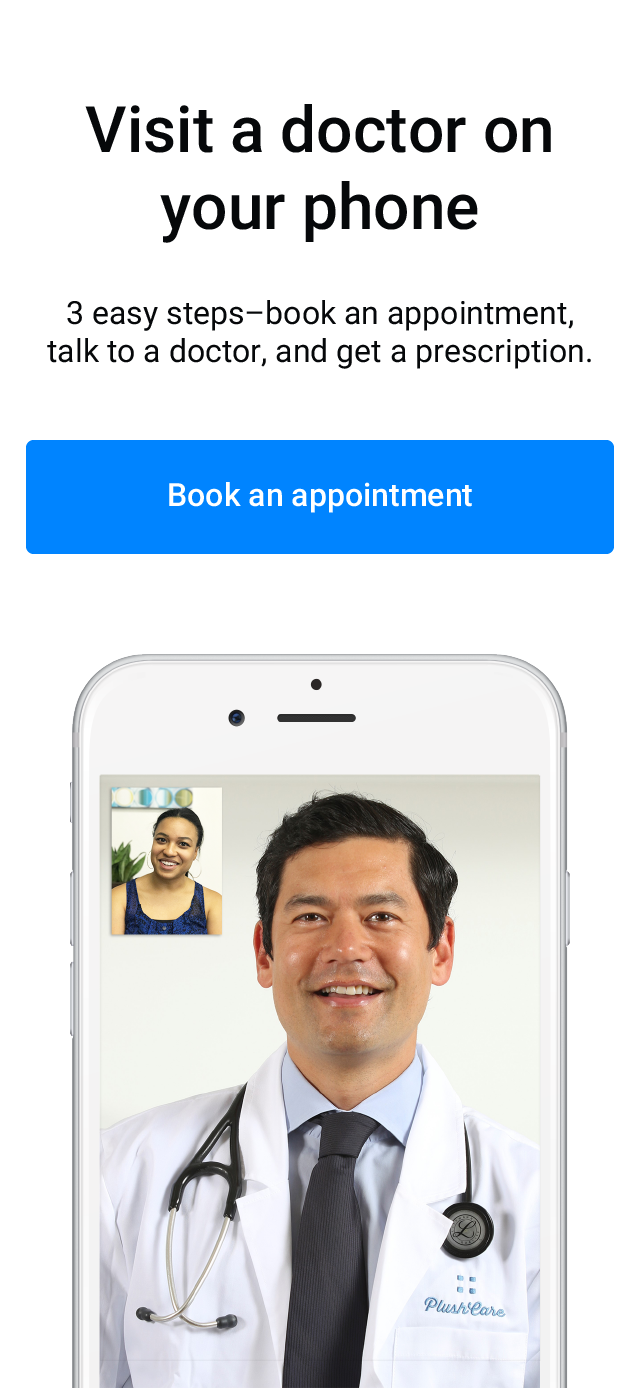 Online Doctors and Prescription Drug Safety
Improper use of prescription drugs or an incorrect dosage can be disastrous to a patient's health. Thankfully, doctors, both on and offline, are required to take a variety of precautions for proper usage to ensure the safety and wellbeing of patients.
For written prescriptions, doctors are required to input the date, full name of the patient, and the patient's address. With medicine that can only be obtained via prescription, the doctor must write down the age for children younger than 12.
Doctors must also specify the drug schedules clearly along with the strength and quantity of the medication. If they can't or if the information isn't available, the doctor can use their discretion to provide up to five days worth of the prescribed medication.
These same guidelines generally apply to prescriptions sent electronically. Electronic prescriptions can potentially improve the overall safety of prescriptions while maintaining efficiency.
To maintain safety when prescribing online, the doctor will:
Determine all your current medical conditions, including your drug history and current prescriptions as well as over-the-counter medications
Identify what's causing your current condition and perform a thorough examination of your health
Make sure that your condition presents enough justification to actually prescribe medication
Rule out the possibility of any contraindications, which refer to any situation where the medication may actually cause harm to the patient, either based on personal health or interactions with other medication
Keeping patients safe is a doctor's responsibility. They should be able to fully explain the process and give you reasons for taking a certain medication over others.
The Prescription Process
Once you have been diagnosed and treated by your doctor, you may be prescribed medication for continued treatment or symptom management. The process for receiving prescriptions is generally the same whether you see a doctor in person or speak to one online.
1. The doctor writes you a prescription. In-person, this can mean a handwritten prescription or a digital prescription sent directly to a pharmacy. Prescriptions can be sent to a retail pharmacy, mail-order pharmacy, or pharmacy inside your doctor's office. Online doctors only have the digital option and will likely send the prescription to a retail pharmacy in your area.
2. When your pharmacist or pharmacy benefits manager—the company that manages insurance coverage for any medication—receives the prescription, they will check to make sure the medicine your doctor prescribed is actually covered under your insurance plan.
3. Depending on your insurance and personal situation, you and/or your health insurer will do one of the following to make sure you receive your medication:
You make a co-payment as outlined by your health insurance plan.
You pay a higher co-pay or pay a co-insurance, which is a percentage of the medicine's total cost.
You get a less expensive medication that offers the same general benefits and effects of the prescribed medication. However, it is a generic equivalent to the medication you were actually prescribed.
Your insurer suggests a different medication to try. While it may be effective, you have to fail with this medication before your insurance company will pay for the medicine your doctor originally prescribed.
4. Your pharmacist will then tell you what medication you can have and how much you will have to pay for it. Based on your doctor's recommendation, costs, and other personal factors, you can now decide what medication to use. It's a good idea to consult with your doctor to determine what medication would be most effective for your health while staying within your budget.
5. Once you make your decision, you can pick your medication up at your pharmacy. Some doctors and pharmacists offer the option of having the medication mailed to your home. Some pharmacists will not know how much you're supposed to pay until they actually charge you at the register.
The Online Doctor Process
While specifics differ from doctor to doctor, most online doctor visits follow the same basic process. It starts with making an appointment, which can include registering or making an account.
From there, your doctor contacts you for a one-on-one video chat or phone call. Video chat appointments not only help to make you more comfortable, but also give your online doctor a more accurate understanding of your symptoms.
During your visit, you can talk to your doctor about what's bothering you, ask any questions, and essentially treat the experience as you would any other doctor's visit. But instead of taking hours out of your day to go to the doctor, online consultations typically take just 15 minutes.
At the end of this consultation, your online doctor will diagnose your condition and provide you with a personalized treatment plan, which may include any necessary prescription medications. If you do require a prescription, your online doctor will send it electronically to a pharmacy of your choosing, where you can pick it up at your convenience.
How Do Online Doctors Write Prescriptions?
Any online doctor who is licensed in your state can write you prescriptions just like any doctor you might talk to in person.
PlushCare doctors are experienced and have received training from some of the top medical institutions in the United States, including Stanford, Harvard, UCSF, and UCLA.
Keep in mind that online doctors are different from automated sites that simply check for symptoms, or sites that simply require filling out a form to get a prescription. The latter cannot legally provide you with a prescription.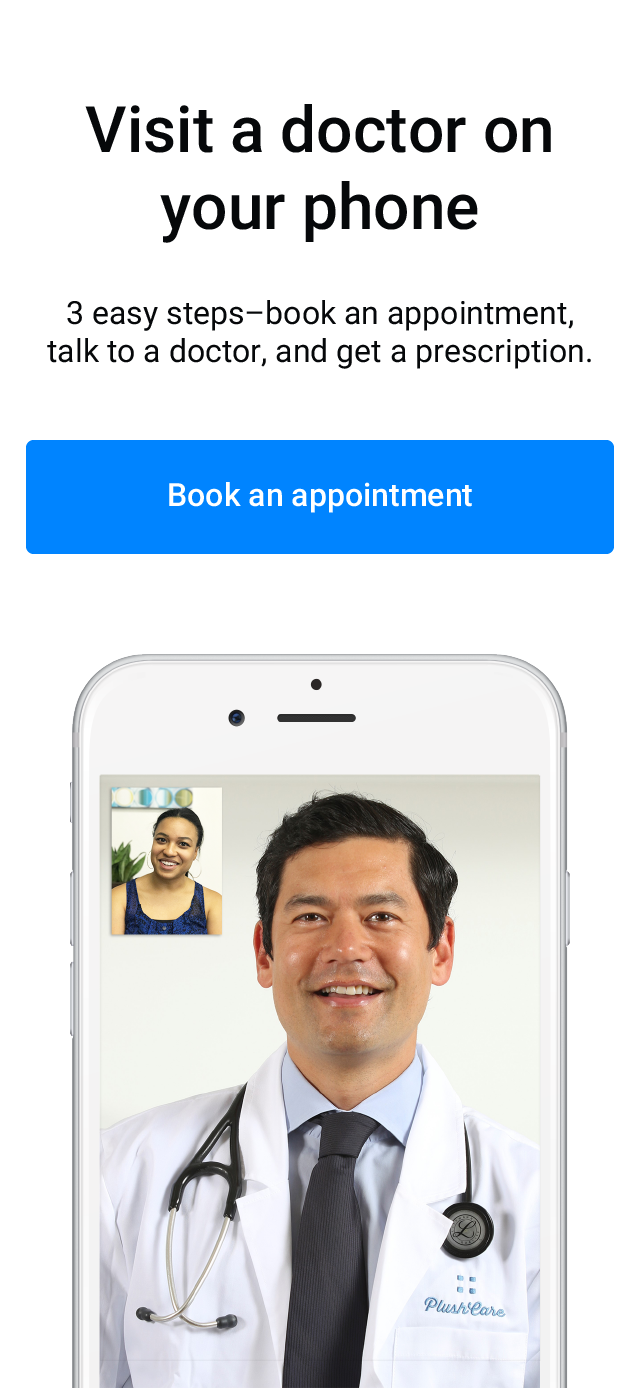 State regulations and laws surrounding online doctors and telehealth are constantly changing, so call our patient services phone number if you have any questions at 800-221-5140.
Thankfully, the Federation of State Medical Boards and other non-profit organizations continue to endorse regulations and national policies that will support prescriptions from online doctors as long as certain technical and medical criteria are met.
PlushCare proudly operates in all 50 states.
That said, controlled substances cannot and will not be prescribed online. Some of these include:
Medicinal marijuana
Antipsychotic medications such as Seroquel, Zyprexa, Risperdol
Stimulants, including Adderall and Ritalin
Narcotics, like morphine, oxycodone, and Vicodin
Sedatives and sleep aids, including Xanax, Ambien, Ativan, and Lunestra
But even with these restrictions, online doctors can still write a wide range of prescriptions as long as they are medically warranted. The most common types of prescriptions that online doctors write include:
Read more of our Online Doctor Series:
Meet some of PlushCare's Online Physicians
How do Online Doctor Visits Work?