What is Cyclobenzaprine and Can I Get it Online?
Anybody who has suffered from back spasms knows how crippling they can be. Other muscle spasms can be just as painful. Maybe you've heard about cyclobenzaprine before. What is it, and can you get it online?
What is Cyclobenzaprine?
Cyclobenzaprine is a muscle relaxer that helps stop muscle spasms and reduce pain from an injury. Cyclobenzaprine is the generic name. It's also sold under the brand names of Flexeril, Fexmid, and Amrix.
It's not available over the counter; you need a prescription for it. One of the benefits of cyclobenzaprine is that it is not a narcotic and comes with less risk of abuse or addiction, although it should be used for no more than two to three weeks at a time.
What is it Used to Treat?
Cyclobenzaprine relaxes muscles to relieve stiffness, pain, or discomfort as a result of injuries or muscle strains. It's usually prescribed with a recommendation for rest and physical therapy to heal the injury. It's only intended to be used for two to three weeks at a time while an injury heals and isn't meant to be a long-term pain reliever.
Cyclobenzaprine Side Effects
Like any medication, there is a risk of side effects with cyclobenzaprine, including:
Constipation
Dizziness
Drowsiness
Dry mouth
Fatigue
Heartburn
Heart problems (fainting, confusion, heart palpitations)
Nausea
Serotonin syndrome (agitation, hallucinations, nausea, seizures)
If you are experiencing any of these side effects you should talk to a doctor to see if you should consider an alternative treatment.
Who Should NOT Take Cyclobenzaprine?
Cyclobenzaprine can interact with some medications, including:
Monoamine oxidase inhibitors (MAOIs)
Antidepressants
Guanethidine
Barbiturates
Benzodiazepines
Anticholinergic drugs
Verapamil
Additionally, the following people should not take cyclobenzaprine without discussing their condition with their doctor first:
Children under 15
People with difficulty urinating
Those with glaucoma
People with liver problems
Women who are pregnant or nursing
Can I Get Cyclobenzaprine Online?
While you can't just go to a website, order cyclobenzaprine online, and have it shipped to your door, you can have an online doctor
write you an electronic prescription and have it sent to your local pharmacy.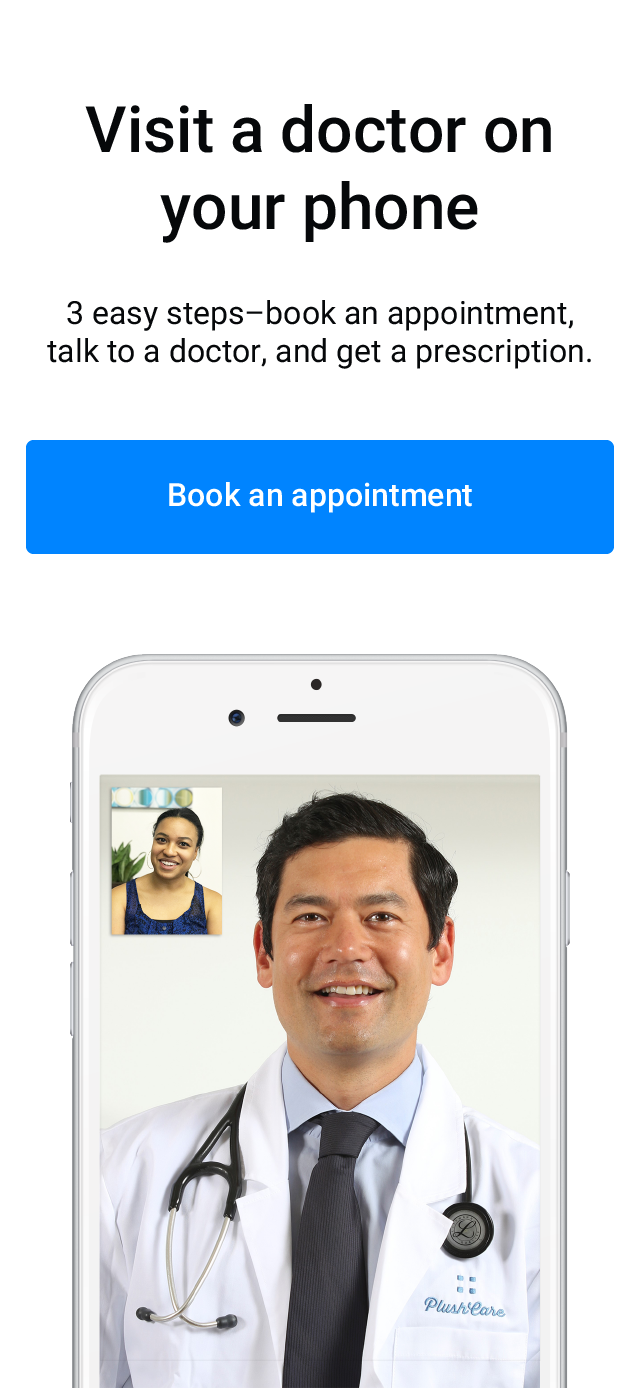 Contact PlushCare Today to Get Cyclobenzaprine Online
If you think you would benefit from cyclobenzaprine, contact PlushCare today by clicking here or calling (888) 690-1562 to schedule an appointment and talk to one of our trusted online doctors to get cyclobenzaprine online. Be sure to mention any medications you are taking or medical conditions you have to avoid potentially serious interactions.
Read More